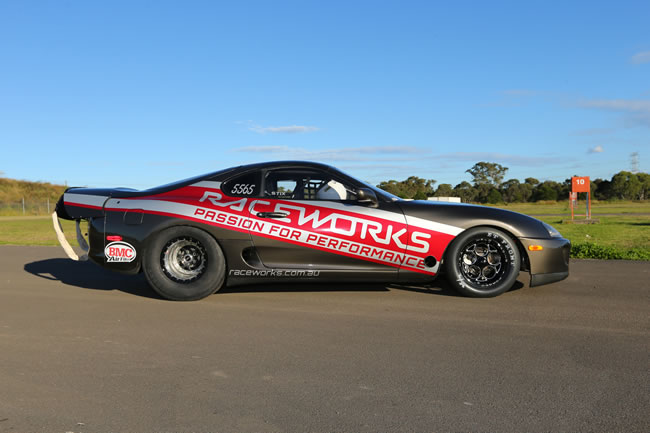 The exciting new Raceworks range of high performance automotive components will be launched at the Meguiar's MotorEX event in Melbourne on July 19th -20th 2014.
The Raceworks V8 twin turbo Supra will star on the Raceworks stand. Already the second quickest Outlaw Radial competitor in the country at over 208 MPH, the car is built to run in Outlaw Radial and is powered by a twin 91mm Pro Mod turbo boosted Chevy big block 526ci V8 engine.
[youtube height="360″ width="640″]https://www.youtube.com/watch?v=wwrMVITQUg8[/youtube]
[youtube height="360″ width="640″]https://www.youtube.com/watch?v=S9Jk382qS3c[/youtube]
Hosting the 2014 Meguiar's MotorEX at the Melbourne Showgrounds has created a great deal of excitement and anticipation with spectators, entrants and exhibitors alike. Highlights of this amazing event included a breathtaking selection of custom, performance and collectible vehicles, featuring Australia's finest hot rods, street machines, hi-tech tuners, custom euro's and wild motorcycles. If that's not enough, there's also the crème of Australian and American muscle cars, high performance speed machines, sports racing vehicles and timeless classics.
Simply visit us on Raceworks Stand 215 in the LiquiMoly Performance Garage and register for our eNewsletter to go into the draw for a chance to win a V8 Supercar Hot Lap with Brad Jones Racing.
Come and see the Raceworks stand at the Liqui-Moly Performance Garage @ stand 215 at Meguiar's MotorEX 14 in Melbourne, July 19th -20th. Tickets available at www.motorex.com.au
[youtube height="360″ width="640″]https://www.youtube.com/watch?v=0jjlqREe4Zg&list=UUAcYbBnaOQD-gW_s5tLL5Hg[/youtube]