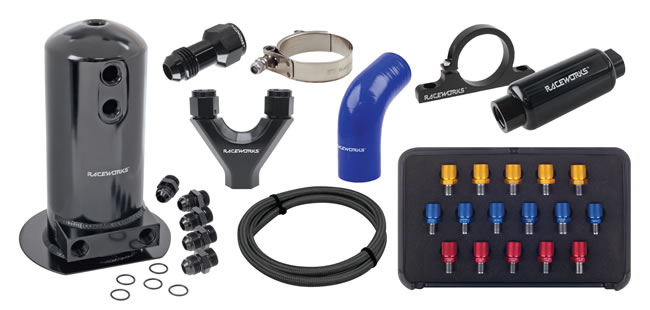 Premier Auto Trade has continued the rapid expansion of the Raceworks high performance air, fuel and fluid management range, adding over 200 new components.
The new range features 220 series PTFE Black Braided hose, with a PTFE inner tube compatible with all fuels, oils and nitrous, including brake and clutch fluids, and a black coloured durable stainless steel outer cover. A 400 Series Rubber Hose Cutting Tool and two 100 and 200 Series Braided Hose Cutters are also now available.
In addition a variety of new double anodised aluminium hose ends and fittings are now available including 30 and 60 degree 200 Series PTFE Braided Hose Ends and 400 Series Push Lock Hose Ends, along with an expanded size range in the 100 Series Cutter Style Hose End offering. Other new fittings and adapters including an AN Roll Over Valve Vent, NPT MALE to 45 Degree Barb, Male AN to Tube Adapter, AN to NPT and a Y-Block AN Swivel to ORB.
The new Raceworks range of high performance Ignition Leads includes 14 different part numbers that cover 815 common vehicle listings. Raceworks Ignition Leads are designed and manufactured in the USA and are specifically developed to meet the most demanding requirements of modern performance engines. Raceworks Ignition Leads have been enhanced for today's wide range of spark voltages with a lead resistance of 1150 Ohms per metre, delivering unmatched strength, spark delivery and temperature flexibility.
The range of Raceworks Silicone Hoses has also expanded with several new sizes now available in 45 degree and 90 degree elbows, and a new Vacuum Line Fitting Kit. Raceworks new T-Bolt clamps are all stainless steel construction, for proven strength and durability, where maximum corrosion resistance and high-strength clamping are required. Raceworks T-Bolt clamps deliver an extra-wide clamp capable of sustaining large torque forces, along with rolled edges, smooth contact surfaces, and multiple high-penetration spot welds, critical for ensuring a consistent seal in boosted high-temperature applications.
Several new Surge Tanks are also now part of the Raceworks range including a 2.5 Litre version in black, in both single and dual outlet options. A new 100 Micron Fuel Filter and Black Billet Fuel Filter Bracket are also now available.
The Raceworks tool range now also includes a new Adjustable AN Wrench and a 16 piece Thread Identification kit for both metric and imperial, in a hard workshop quality case.
The Raceworks range of high performance components have been manufactured from high quality materials to ensure the highest specifications and industry standards are surpassed, and come with an Industry leading 2 year warranty.
Raceworks products are available through a network of specialised resellers and leading automotive retail groups. To find your nearest reseller visit our Where to buy page.